royal_slider_gallery_70730-

Passionate about Eco-Floristry
royal_slider_gallery_57040-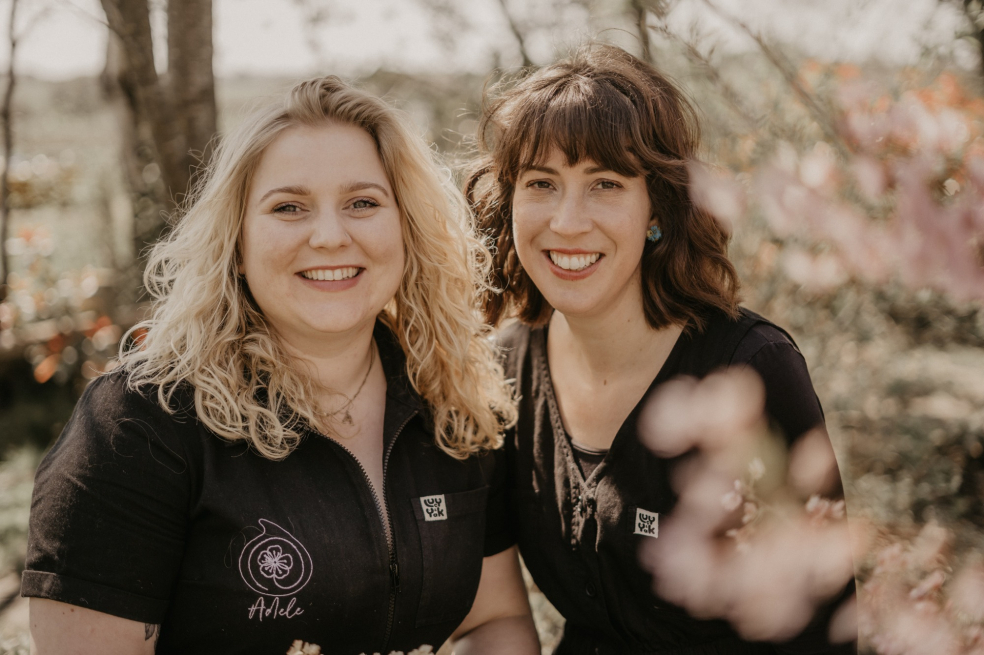 /opt/ft/core/content_blocks/bootstrap/CMSMoreElements/two_column_text.tpl.php
"We thought it was about the flowers. We know it's about the people."
Fig & Bramble is the trading name of Fig and Bramble Ltd, owned by Adele Miller and Gemma Ward.
In 2019, we both were seeking change and retrained as florists, originally just as a hobby. We subsequently left corporate jobs; Adele took voluntary redundancy and Gemma went on adoption leave. We soon realised, separately, that the corporate world no longer suited us and we pursued our passion for flowers by setting up floristry businesses- entirely unaware of the other and only 4 miles apart.
After a chance meeting via Instagram, we went on to support each other, working for each other over two years. We finally realised in 2023 that we were stronger and happier together. In April 2023 we formed Fig and Bramble Ltd.
Adele, a former environmental manager, brings her expertise in sustainable, environmentally- sympathetic floristry to the company, whilst Gemma, a former solicitor, brings a sharp attention to detail and great organisational skills.
Our journey began with a love of flowers, but we soon realised it was really all about people. From failed IVF, to new babies, to school proms, graduations, birthdays, engagements, marriages, anniversaries, thank yous, thinking of yous, sympathies and final flowers, we are deeply honoured to have a role in every phase of life; through every high and low. We deliver hugs in the form of with bouquets, we cry whilst we make funeral sprays, we beam with brides on their most special day, we laugh with grooms as we help them put on buttonholes! We are proud to be emotionally invested in all our floral designs and we hope that shows in our flowers.
Naturally styled, using British flowers when possible, we create:
Wildly Romantic Florals
/opt/ft/core/content_blocks/bootstrap/CMSMoreElements/image_left_text_right.tpl.php
Photo showing the two florists and owners of Fig & Bramble, Gemma & Adele (left to right) .
Away from flowers, Adele enjoys cold water swimming and festivals. Gemma plays softball cricket and loves reading and spending time with her young family. We both love exploring the New Forest with our dogs: Dora, Oscar, Hetty and Clover.
/opt/ft/core/content_blocks/bootstrap/CMSMoreElements/button.tpl.php
/opt/ft/core/content_blocks/bootstrap/CMSMoreElements/image_right_text_left.tpl.php
Our ethos
We believe in eliminating single use plastic and waste as much as possible. This is why all our packaging materials are reusable and/or recyclable. Where possible, the packaging materials are also made from recycled materials.
Bouquets are wrapped in recyclable kraft paper and fastened with plastic free kraft tape.? Luxury bouquets are also wrapped in recycled, recyclable acid free tissue paper. When needed, hand-tied bouquets will arrive with a cellophane aqua pack to keep the flowers fresh. The cellophane is 100% biodegradable and compostable. It is best composted in your home compost, if possible (just snip it into smaller squares).
All local bouquets are delivered personally by Gemma or Adele to ensure excellent customer service, in our zero emissions electric vehicles (look out for Patsy, our beautiful van!).
When posting bouquets, these are packaged in cardboard boxes sealed with plastic free kraft tape and can be reused or placed for recycling with tape intact.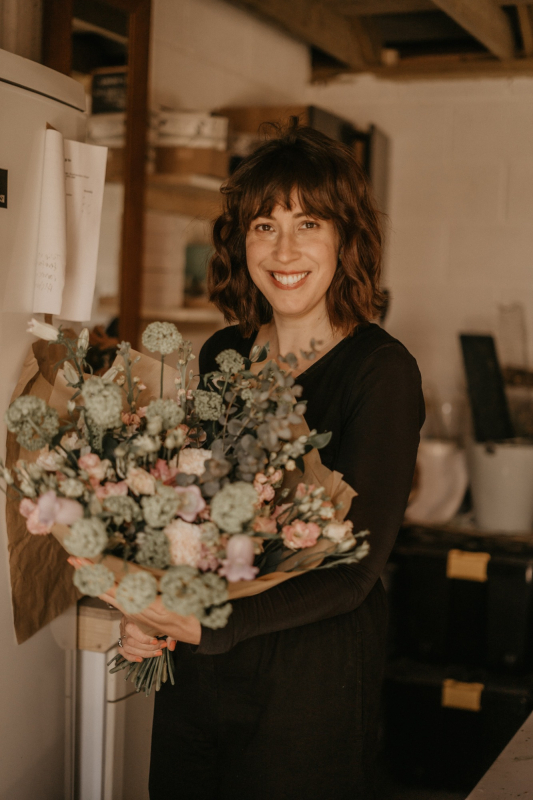 /opt/ft/core/content_blocks/bootstrap/CMSMoreElements/image_left_text_right.tpl.php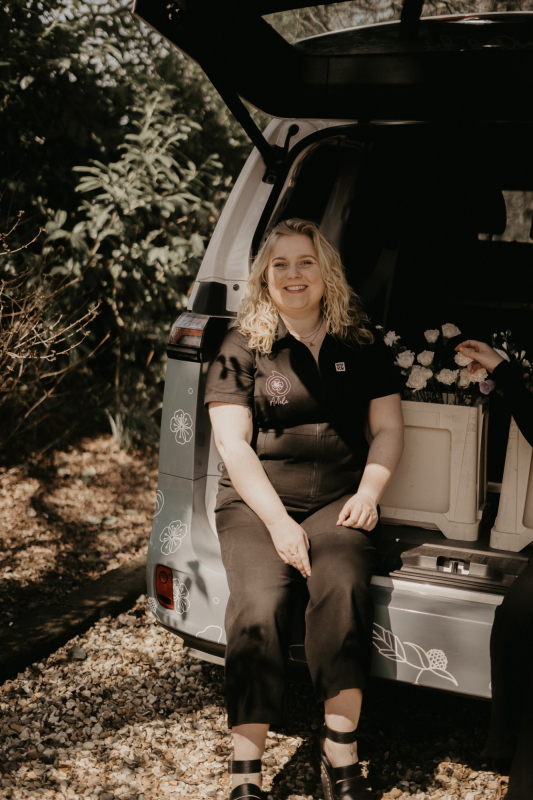 When it comes to Wedding, Funerals and Events, Fig & Bramble doesn't use floral foam. For some wedding and funeral arrangements we use Agrawool, a natural and biodegradable product made of Basalt and sucrose. It is, however, still a manufactured and single use product and we endeavour to use alternatives, such as sustainable moss, wherever possible.
From an environmental perspective, British grown flowers usually have a lower carbon footprint than imported flowers. British flower bouquets are always available on request and Fig & Bramble sources its locally grown flowers from several small farms near Salisbury and Winchester.
However, it must be borne in mind that British flowers are seasonally restrictive and/or may be grown in energy intensive conditions (heated polytunnels). We are also conscious that cut flower exports are an essential economy to many developing countries, particularly in North Africa, and flowers can be grown in an environmentally sympathetic manner where climatic conditions are ideal. Fig & Bramble therefore support the importation of cut flowers in theory but would like wholesalers to find alternatives to plastic for packaging flowers.
We will always welcome your own thoughts and suggestions on our approach to sustainable and environmentally sympathetic floristry. Please do drop us an email if you would like to extend this conversation.
/opt/ft/core/content_blocks/bootstrap/CMSMoreElements/two_column_text.tpl.php
We're proud to have been featured in:
Rock n Roll Bride
Perfect Wedding
Your Hampshire & Dorset Wedding
Weddings & Honeymoons
Unconventional Weddings
Green Union
Award Winning Florists
Best Wiltshire Florist - Muddy Stilletto 2023
Regional Finalists for Best Florist - TWIA 2024
/opt/ft/core/content_blocks/bootstrap/CMSMoreElements/button.tpl.php
/opt/ft/core/content_blocks/bootstrap/CMSMoreElements/image_right_text_left.tpl.php
/opt/ft/core/content_blocks/bootstrap/CMSMoreElements/content.tpl.php