We create final flowers for funerals in Salisbury, Romsey, Southampton and across the New Forest.
Gemma and Adele can help you choose a final gift to your loved one that reflects their personality and interests.
All funeral arrangements are bespoke to suit your requirements and all designs are free from single use plastic (including floral foam or "Oasis").
Arrangements can be made using entirely British flowers and foliage, if desired and can be made fully compostable, so that they are suitable for woodland burial sites.
Please call or email us to make an initial enquiry. Gemma and Adele are happy to meet with family/friends for a consultation, to help you decide on an appropriate floral tribute.
You may like to consider flowers that are special to you and your loved one, for example flowers from their wedding bouquet or flowers they grew in their garden.
We also provide a unique post-memorial service, whereby any large floral arrangement can be disassembled and rearranged as small arrangements for mourners to take home with them. Please contact us to find out more.
Price Guide
The cost of final flowers is dependent upon the type of arrangement, flowers chosen and season.
However, the below price guide may help to inform your choices:
2ft coffin spray: from £120
3ft coffin spray: from £180
tied sheaf: from £60
wreath: from £75
We also offer an "A La Carte" service, whereby funeral flowers can be ordered from our webshop; you select the colour palette and we create a beautiful seasonal arrangement.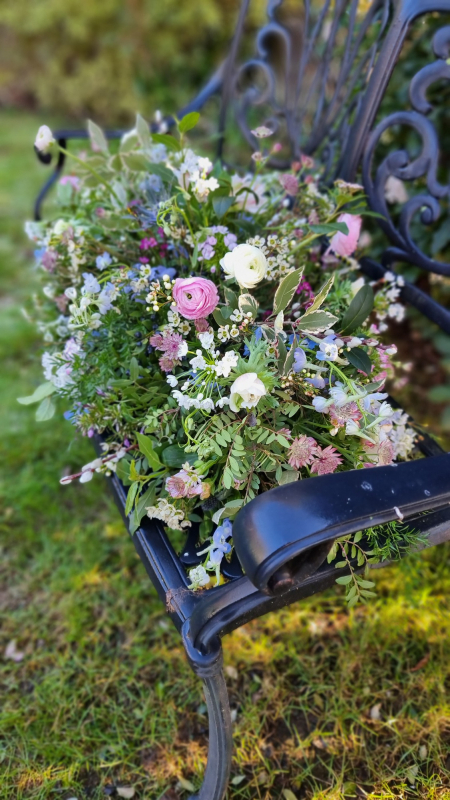 /opt/ft/core/content_blocks/bootstrap/CMSMoreElements/content.tpl.php